SANS Live
Cloud Valley CV2014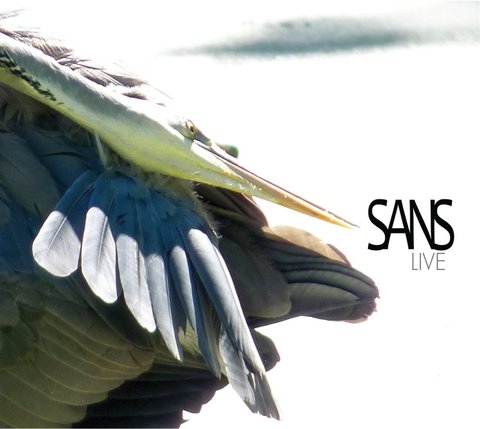 SANS is the quartet of multi-instrumentalist Andrew Cronshaw, the great Finnish singer Sanna Kurki-Suonio, multi-instrumental reeds player Ian Blake, and Tigran Aleksanyan, Armenian master of his country's heart-rendingly voice-like reed pipe, the duduk.
Andrew Cronshaw electric zither, fujara, marovantele, kantele
Sanna Kurki-Suonio voice
Tigran Aleksanyan duduk
Ian Blake: bass clarinet, soprano sax
Formed by the musicians who made Cronshaw's most recent CD, The Unbroken Surface of Snow, SANS is an instrumental and vocal combination not found in any other band in the world, in which the four members draw deeply on their different but remarkably compatible traditions including the ancient Karelian songs that became Finland's Kalevala, the sweeping melodies of Armenia and English folk-song. They combine to make a genuinely new music of extraordinary beauty, intensity and fluidity in which each performance is a new creation. So the band's debut CD SANS Live was recorded live, on its December 2013 Flanders tour.
See the SANS web pages for more info and tour dates, and SANS on Facebook.
1. Läksin minä kesäyönä käymään - I went out on a summer's night
2. Omenankukka - Apple flower
3. Peter Pan
4. Tuuli - Wind
5. Waiwanen walitan waikiast' - I weep for my sins
6. Äiti ja meri - The mother and the sea
7. Äiu, äiu
"A subtle, at times gently unsettling album in which ancient laments from around the Baltic are fused with themes from England, Scotland and Armenia. Exquisite" - Robin Denselow, The Guardian

"An entrancing and majestic weave of influences" - World Music Chart Europe

"Beautiful, spacious, haunting, visceral" - Rachel Nelken, Arts Council England

(SANS's 2014 UK touring and CD are supported using public funding by the National Lottery through Arts Council England)


SANS Live is available direct here from Cloud Valley - please click one of rather garishly imperative 'buy' buttons below -
and from the usual shops and online sellers


UK buyers (£11 including postage):
Non-UK buyers (£12 including postage):
For much more information about Andrew Cronshaw, including all of his albums and full discography as well as bio, photos, tour dates and audio, go to the Andrew Cronshaw section of this website (also accessible as AndrewCronshaw.com).